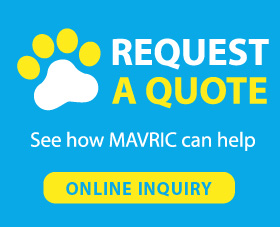 Online Returns Policy
REPAIR, REPLACEMENT & REFUND POLICY
Mavric exists for just one purpose: to enrich the lives of owners and their household pets. We remember to ensure that people bring a good selection of products sourced from all the world to meet your every need.
This policy has been established to offer the comfort of knowing that, at the mercy of the conditions set out below, if any product you get from Mavric is available to be defective, or it generally does not fit the bill, MAVRIC will happily repair or replace the merchandise, or provide you a refund.
This Policy offers you benefits as well as the rights you have at law, because your satisfaction is vital to us.
WHAT IS THE MAVRIC REFUND POLICY?
In the event that you change your brain in regards to a product you have purchased from us, you can come back that product to us within 30 days of purchase and we'll happily refund the original price of that product provided the product and packaging is in its original condition and is re-saleable.
For example, any product that has been personalized, e.g. an identification label that is engraved, will never be accepted as a return simply because you have transformed your mind.
See below to find out more regarding online profits and delivery charges.
WHAT IS MAVRIC'S DELIVERY REFUND PLAN?
If you bought the merchandise online, and the product is defective or damaged in transit, come back the merchandise within thirty days and (provided we agree that the product is damaged or defective as outlined below) we will refund your original delivery charge or cover the expenses of delivering any replacement product for you.We won't however refund delivery charges if that is returned due to the fact it is unwanted.
FAULTY OR DEFECTIVE PRODUCTS
If you get a faulty product from us (for online purchases something is defective or damaged in transit on delivery to you,) return it to us within 30 days of purchase and we will inspect the merchandise and if we concur that the product is faulty and unlikely to have occurred through abnormal use, we will, with your agreement, replace the merchandise with an identical product.If we are unable to offer you the same product, we will, with your agreement, refund the purchase price (and delivery price, if any).If however, you come back the product more than thirty days after purchase or you don't consent to the alternative or refund described immediately above, we should make a far more thorough assessment of the type of the fault before we can regulate how to help you, whether it is substitute, repair or refund. In lots of situations, this is a simple evaluation by our store personnel or for online buys the client service team.For instance: if the merchandise was wrongly described or incorrectly labelled, or if the fault is not at all hard and safe to determine, we can usually assess it immediately upon receipt.
Sometimes it may be dangerous or might not be possible to evaluate the product immediately due to the nature of the merchandise (for example, if it's a power item). In these situations, we might send the product to the manufacturer or their repair agent to look for the issue and its own resolution.Whilst we always do our better to supply you with a timely quality, with respect to the product please take note it might take 6 weeks or even more to complete the procedure because of the variety of parties involved.
Whenever we send your product to the maker or their agent, we will keep these things assess the merchandise and offer their assessment within a reasonable timeframe.An alternative solution option is that you can liaise with the manufacturer directly, which might be far more convenient and efficient for you. Our customer support team is pleased to offer the relevant manufacturer's contact details to work with you.
WITHIN ANY Evaluation, WE GO THROUGH THE FOLLOWING:
(1)

If there is a fault

:
Where there's a minor fault and the product can be easily repaired, this will be completed and the merchandise returned for you within an acceptable timeframe. Mavric and/or the maker can instead opt to replace the product or refund the price.
(2)

When there is a major fault

:
If the assessment is that the merchandise has experienced a significant fault you might choose to get a refund, replacement, or repair.
(3)

If the product has been damaged through abnormal use

:
However, neither Mavric nor the manufacturer will offer a refund or replacement where in fact the product has sustained damage because of to irregular use as discovered by Mavric, the maker or their agent. If repair can be done, it might be at your path and cost.